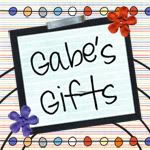 This is not my Gabe we are talking about here but a little angel who left this world too early. To learn more about his story check out
http://www.todaystoptwenty.blogspot.com/
and read about this mothers story and how she is turning a terrible loss into something positive.
In short, his mom wanted to do something positive in her son Gabe's memory and has committed to making and collecting blankets to donate to Project Linus. As a neonatal intensive care nurse I have used many of these blankets donated by Project Linus. Sometimes they are used to cover an isolette where a premature infant sleeps, or to swaddle and infant and provide warmth. No matter how these blankets are used, they provide an extra special something for these babies and their families.
If you are interested in finding out more about how you can help, check out Amanda's blog (see the link above) She even has tutorials featured to show you how to make blankets if you need directions.
Thank you Amanda for your efforts to make and collect blankets for Project Linus. It is truly a wonderful project and I applaud you!!
Bronwyn